Medical Tourism in India

Introduction Medical tourism in India After the silicon rush India is now considered as the golden spot for treating patients mostly from the developed countries and far east for ailments and procedures of relatively high cost and complexity. India is also aggressively promoting medical tourism in the current years -and slowly now it is moving into a new area of "medical outsourcing," where subcontractors provide services to the overburdened medical care systems in western countries. India's National Health Policy declares that treatment of foreign patients is legally an "export" and deemed "eligible for all fiscal incentives extended to export earnings." Government and private sector studies in India estimate that medical tourism could bring between $1 billion and $2 billion US into the country by 2012. Going by the Statistics and various studies it can be easily said that india would be the leader in medical tourism within the next decade if only it could improve the infrastructure and tour attractions. The question or rather the doubt that is often asked by critics is how can India provide top line medical care to outsiders while more than 40% of its people languished below poverty line and less than 20% of its people can actually afford medical services. Ethically and morally this problem has to be solved if India has to move into the category of developed country and also as a place which provides medical care to both its own people and patients from other country The aim of this project is to put a finger on the highly profitable service of medical care combined with tourism in which india is currently considered as a market leader. It has been a known fact for past many decades that Indian doctors are highly skillful in their given field since all around the globe mot hospitals have doctors of Indian origin. Therefore it became almost natural that this trend extended to India.



India Medical tourism
Popular For: - Alternative Medicine, bone-marrow transplant, cardiac bypass, eye surgery, hip replacement.
Visa Requirements: - A valid passport and visa are required.
India is a global leader in medical tourism, and one of the world's least expensive choices among medical tourism destinations. Focusing on heart surgery, India also attracts patients with high quality dental care, Ayurvedic spa treatments and other medical and alternative treatments. Medical facilities at India's leading private hospitals are excellent and state-of-the-art. Despite the country's reputation for poverty and poor hygiene, the value for money offered here draws thousands of patients each year. Many visitors complement treatments with a stay at an ashram where they can learn how to meditate or practice yoga from experts in these ancient traditions.
Pros: - The medical cost savings of having operations and treatments in India are among the best in the world, with fees between a third and 10 percent of the equivalent procedure in the US. Many doctors are trained abroad and hospitals attracting international patients are on a par with those in the west with all staff being proficient in English. In addition, India has many appealing options for recovery with costs for accommodation typically low. The Indian health and medical industry is large and boasts some well developed infrastructure, particularly in big cities such as Delhi, Mumbai, Hyderabad, Bangalore and Chennai, which support the wealthy classes.
Cons: - Although India has a rich legacy of cultural sites that attract tourists, it is not practical to enjoy some of these sites while recovering. If you do venture out of a sterile hospital environment expect to be exposed to bacteria that may cause a stomach upset or worse. India gets extremely hot in the summer months, with temperatures reaching 40°C at times. During the monsoons, water-borne diseases become a problem too, so choosing a good time to visit is essential.

Why Medical tourism in India
India actively promotes medical tourism and has many world-class hospitals. Several professional outfits offer medical tourism packages which include hospital choices, consultation, recovery plans and tourism tours, even personal minders for the frail. Popular procedures include heart surgery, hip replacements and laser eye surgery.

India Health Tourism
India is popular for its Ayurvedic spa treatments that allegedly heal the mind and body, as well as its spa resorts which typically offer meditation and yoga, two practices in which Indians excel. Spas are scattered across the country with Ayurvedic spas concentrated in the south of India.

India Medical Surgery
Medical infrastructure in India is state-of-the-art, The greatest concentration of clinics is found in Chennai, with large hospitals also available in cities like Bangalore, Chennai, Hyderabad, Mumbai and New Delhi. This is an overview of the major hospitals in India catering to medical tourists and what you can expect for medical care and medical facilities.

India Medical Travel
India is an enticing holiday destination, characterized by myriad cultural traditions and historical attractions spanning thousands of years. Traveling here to receive world-class medical care followed by a sightseeing holiday still costs significantly less than it would to undergo the same medical procedures in Europe or North America.
The Indian healthcare market is Rs. 15 billion and growing at over 30 % every year. Indian private hospitals are increasingly finding a mention in the travel itineraries of foreigners, with the trend of medical tourism catching up in the country. If industry estimates are to be believed, the size of the medical tourism industry stands at Rs 1,200 - Rs 1,500 crore (Rs. 12-15 billion).
At We Care India we strongly believe that India will find its rightful place as the Global Healthcare Destination of the world. We are constantly striving to enhance our infrastructure and facilities to offer our patients, the assurance of a world-class healthcare system that emphasizes safety and pushes the boundaries of excellence.
Six of We Care India partner hospitals in India have been accredited by Joint Commission International (JCI) USA, the Internationally Accredited Hospitals in India. An accredited hospital assures the best practices in a safe environment and that the patient is in "safe" hands. JCI accreditation is the Gold Standard for US and European hospitals as it reflects provision of the highest levels of patient care and patient safety.
Quick links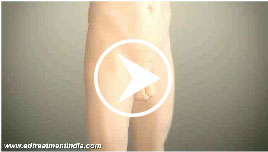 Penile implants. How do they work